This is the complete tutorial post on the z-shadow tool. Z shadow is a website where you can find many links (Phishing Links) like Facebook increase followers, 8 ball pool game link, Increase Facebook likes, Increase Facebook friends, Pool live tour free coins etc. These are z shadow hacking links or you say phishing links. If someone opens this links and enters its username and password you will get their ID and password. Phishing is the most used and common method. In this, the hacker creates a fake page of any website, game, page etc which look the same as the original one. You can try this to learn this trick but do not try to anyone because hacking is a criminal offense.
How to use z-shadow? It is easy to use z shadow hacking links. You can read the step by step instruction which is written below. Kali Linux is one of the best tools for practicing penetration testing and ethical hacking. Kali Linux is an open source project that is maintained and funded by offensive security.
You Can Also Read
What is Z shadow Hacking?
As I already told you that Z shadow is a website and by using this website you can hack anyone password. It is one of the easiest methods that you will find on the internet for hacking. As we all know that hacking requires lots of practices and skills and many of us don't have enough time or skills so this method is best for us. It can save your time and effort.
The beauty of this method is that it does not require any technical skills or practice, you just need to be smart. So, If you wanna get someone password or hack someone's account then you can get it by following the below mention steps. And these Z shadow hacking steps are very simple and short.
How does Z shadow work?
As I told you, Z shadow hacking is based upon phishing links. Before going into the working of z shadow, we must know what is phishing. The phishing is one of the methods for getting anyone password. In this method, you design a phishing page, It's just a copy of an original page. You can create a phishing page of any website like facebook, twitter etc. And the success rate of phishing attack depends upon the quality of phishing page. If you wanna learn more about how to design phishing page, and how it works then click here.
Now back to the topic, Designing of phishing page requires knowledge of HTML, CSS and other front-end language And lots of time and effort. So what Z shadow does, It provides you with the pre-design phishing pages. So you can just copy the link and send to the victim. When the victim opens the link. he thinks it's a genuine page and provides their credentials to the page. When he enters his ID and password, then you will get its ID and password. The best part is that the victim will not know that this ID and password are stolen. This how Z shadow hacking makes the whole hacking process easy for you.
Quick Overview on How to use z shadow hacking links
Open z-shadow and sign up on this website.
Log in to your z shadow account and there you will see many links.
Copy any one link of your choice and send it to your friend or anyone else on Facebook, Gmail, Instagram etc.
When anyone opens this link and try to log in to this link.
You will get his/her Email ID and password in your z-shadow account.
List of accounts that can be hack by Z shadow hacking
Before going to z shadow hacking procedure, here I am sharing the list of some of the accounts that can be hacked by using the Z shadow hacking.
Facebook Account
Instagram Account
Gmail Account
YouTube Account
Twitter Account
Hotmail Account
Skype Account
PayPal Account
Udemy Account
Minecraft Account
Netflix Account
Hotstar Account
Ask Account
Adsense Account
WordPress Account
Website Admin Password
Rappelz account
Battle.net account
Steam account
Line account
Origin account
Goultarminator account
Metinv2 account
Z8games account
Habbo account
Xat account
Conquer account
Paltalk account
Netlog account
Gamezer account
Tuenti account
Zynga account
Jawaker account
IMVU account
Darkorbit account
League of legends account
Krosmaster account
Dofus account
Dofus forum account
and many more. Means you can hack any type of account by using the z shadow hacking. In short, you can hack any account using z shadow hacking
Z shadow Hacking Links – Step By Step
For hacking anyone account's or getting the password of someone's account you just have to do follow these steps. By following this steps you will hack most of those accounts which I have mentioned in the list (above). You will get their email id and password by using z shadow hacking trick.
Step 1
Firstly, You need to open the z-shadow website (z-shadow.co). z-shadow URL now changed to z-shadow.info. You can type z-shadow.co or type z-shadow.info but the URL will open to z-shadow.info only. Now their homepage opens (z-shadow.us). In the home page, there is a login panel which can be used to log in to your z-shadow account. But before this, you have to click on sign up here and sign up to this website to get your username and password.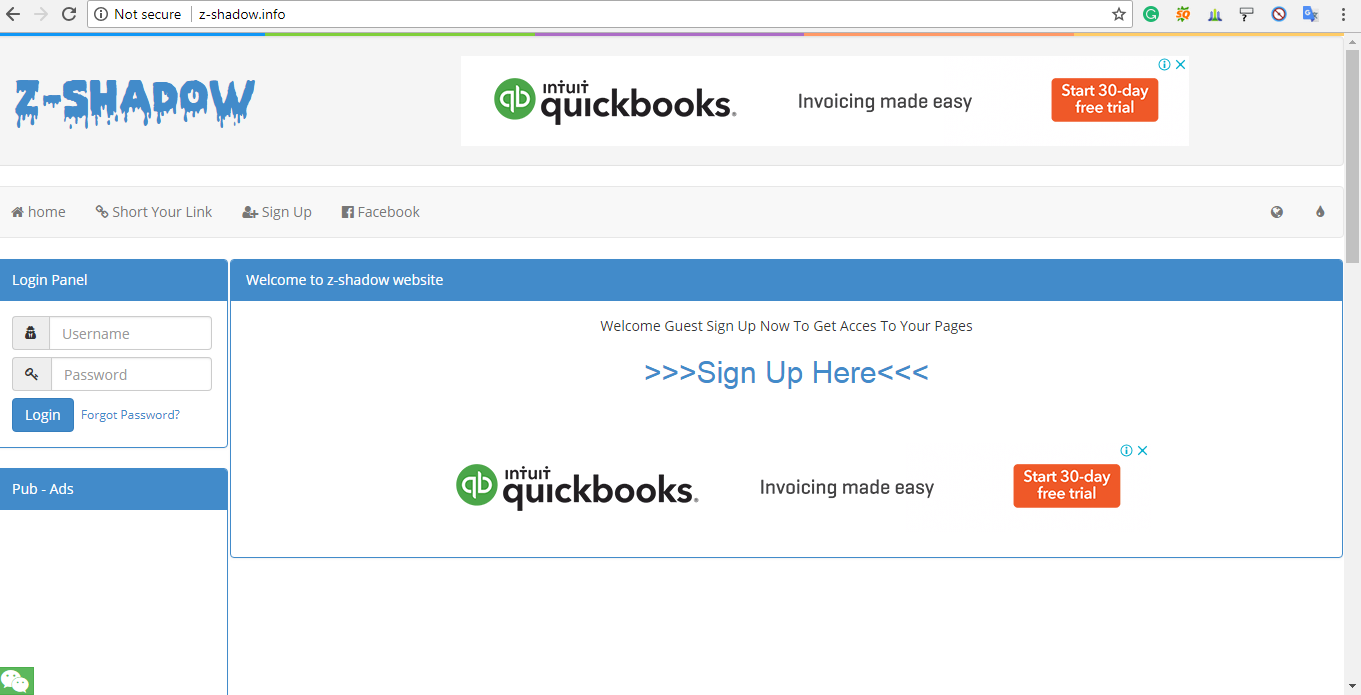 Step 2
You have to click on "sign up here" and then sign up for your account. Fill all the details in the signup form choose your username, password, confirm your password, email, age, country. When your sign up form is completed your z-shadow account will be open. Many times users forget their z-shadow user ID and password. So to avoid this type of problems you can write your z-shadow account username and password in the notepad of your computer or in the notebook.
Step 3
After signup. Login to your z shadow account. Type your username and password in the login panel and then click on login button.
Step 4
Now, your account dashboard will open. This will look like the image below. The first thing you notice on the home page of your Z-Shadow account is that many links like Facebook Colors, Facebook Add Followers, Criminal case, dragon city, 8 ball pool game etc. have been given on this website. These links are automatically get updated after every 6 hours. There is more than 50 z shadow hacking links. In the Account info (which is displayed on the left sidebar) there is your username, victims of today (If you hack someone's email in today's date, it will show up here), total victims (it display your total number of victims), Total pages and total z points.
Step 5
Now, you have to copy any of these links according to your choice and send it to that person whose ID and password you want to know. There is four language option available for using these links. You can choose any language and the phishing page will be open in that language only. For example, if you choose 8 ball pool game link and you selected the link in Arabic then the page will be open in the Arabic language only.
Step 6
You can send the link in this way. When your friend or anyone else will open this link and login his email id and password on this page then his account will be hacked. You can check all the hacked email ID and passwords in my victim option.
Step 7
To check your victim's ID and Password, You have to click on "My Victims". All your victim list will be displayed here including their Email ID, password, IP Address. Victims get automatically deleted after 15 days.
These are the steps to use z shadow hacking links. This way anyone can hack most of the social accounts, hack admin passwords of some sites, emails etc. There is another similar website that you can use, its name is shadowave. You can also create your own phishing links easily to hack any account.
Z shadow hacking for Gmail Account
As I already mentioned, you can any hack any account not only facebook using Z shadow hacking. In order to hack a Gmail account, you have to perform the same procedure. You just need to create an account on z-shadow and then there you find many links available on this website. You just have to copy the link to Gmail account instead of Facebook and all the approach will be the same.
This is the only small difference. Copy those link which is related to Gmail login and Email to those person whose password you want to hack. For example, a fake Gmail page which looks like an original one you can send this type of pages or a game which shows that you need to log in to your Gmail account to play this game. And when your victim opens the link which you have sent him on his mail and when he tries to sign in to this page using his Gmail account. You will get their email id and password in your dashboard.
Some Important Questions
Below are the some of questions that can come into your mind. So go and check these questions and clear all you doubt about Z shadow.
Is Z shadow hacking is legal?

No, this is not legal even it a criminal offence. Still, you can do it for learning the purpose. You must take the permission to the person whose account you going to hack.

Is Z shadow is the Secure site?


I am using it for more than a years and I don't have found any security threat in it. So I can say it is a secure site.

Can I hack Account Using Mobile phone?


Yes, You can use your mobile phone to hack account by using z shadow website.

Why is Z shadow hacking a better option?


There are lots of reason but here I will tell you some important reasons like it doesn't require any technical skills, It doesn't require practices, It's secure and mobile-friendly site. Z shadow hacking is the easiest and simple way of hacking accounts and so on.

Is Z shadow website working?


Yes, Z shadow website is working perfectly fine. One thing to note here that, the URL or link that you create in Z shadow will automatically update after every 6 hours. It means the links only be valid for 6 hours, after 6 hours you need to copy another link and send it to the victim again.

Is there any Z shadow Android APP available?

Yes, Now you can also download the Android app for z shadow. The process of z shadow hacking using the android app is quite similar to the website method. Below I have given the link to download the app, and it's secure and safe.

My z-shadow links are not working?


z-shadow links get updated automatically after 6 hours. So, this may be one of the reasons why your link is not working. You should try with a new link.

How to get it back my deleted victims list?


Victims get deleted automatically after 15 days. There is no option available on this website to get it back. I suggest you save your victim data in notepad so that you can view them in your notepad at any time.

My links blocked by Facebook how do I send this link now?


Do not send links to many people. Facebook security is good they can easily detect these phishing links so send only one link in a day.

How to save yourself from Z shadow Hacking Attack?
So after reading the whole article, you know that how to hack anyone account by using Z shadow hacking attack. But now the question arises that how we can save yourself from Z shadow attack? So the answer is very simple. you can save yourself by using the below mention tips:
To save yourself from Z shadow hacking attack or any attack you require to be smart. What does it mean? Well, It means you should smart enough to understand what is an original page and what is phishing page, what is a genuine link to the site or what is fraud link. Hacker will try to get your password using social engineering, means it will send you phishing page and ask you to log in, so what you can do is be smart and check is it right or not. In Z shadow hacking attack case, you will see the link is not on Facebook, it's on any other website so by checking this you can save yourself from hacking. Remember one thing, the hacker cannot hack you until you do some foolish thing like entering your credentials in phishing page.
Most of the websites came with features of two steps verification, in this features you have to fill your contact number to the account and at the time of login, you have to fill the password along with the OTP that will send to the number you have given. So unknowingly, If you have clicked on the Z shadow link and enter your credentials so the hacker won't be able to log in. Becuase it will ask to provide the OTP, and when OTP come to your mobile phone then you will realize that someone tries to log in my account so you can change your password to be on safer side. And hacker won't be able to access your account.
Use z shadow to Hack Instagram
Instagram is a very famous social media platform and a very large amount of user visit it every day. Here I am sharing the steps by which you can easily hack Instagram account of the victim. This hacking technique requires the knowledge of z shadow, If you don't know what is z shadow, you can scroll up and learn. Still, I will give you the brief about Z shadow. Basically, It's website that provides you with the link to phishing page by which you can fool and person and get their credentials ( username and password). It's the easiest method. If you wanna learn what is phishing page and how can we create our own phishing page then, click here.
I have divided the whole process into steps to make it easy for you guys, Please share our post if you like it. Here I am telling the whole process bt website method, You can also use the Z shadow app.
1. First, create your account on z shadow website and If you already have an account then log into it.
2. After login, you will find several links to other social media websites like Facebook, twitter etc. But as we are targeting the Instagram user, we have to search for the Instagram link there. In my case, I found the Instagram link on page 3.
3. Now click on the language in which you are more comfortable. I will select English and then copy the link.
4. After copying the link, this is the most crucial steps, In which you step you have to send the links to the victims. you have to Send the Z shadow hacking link in that way the user will not identify or feel it's a phishing link or fraud link. This required the knowledge of social engineering. If you don't have the knowledge of social engineering then I am here tell you some brief points to remember while sending the links to the victim.
Points to remember when sending Z shadow links to the victim.
Don't spam means don't send the link to victim too many time so he starts thinking that something is wrong with this URL.
You can use URL shortener to be on safer side. You can not send Z shadow hacking link directly on Facebook or on mail, they will detect it is hacking link. So using URL shortener will also help you in this.
5. If the victim clicks on the z shadow hacking link and successfully enter their credentials( username and password), then you will get his credentials in z shadow account. When you login into z shadow account, there is a tab called "My Victim" where you can see the victim credentials.
Z shadow hacking android app
There is GOOD NEWS! for all of you. Now you can hack anyone accounts using your mobile phone. Yes, you read it right. In order to hack account using Z shadow hacking on your mobile phone, you need to download and install the z shadow android app. It is not available on Playstore because it's a hacking app and Google does not promote hacking.
Don't worry, if you will not find it on play store but you will surely find it on our website hackchefs, So I am sharing the link below to download the APP for z shadow hacking.
Download Z shadow APP
Note: Hacking is a criminal offence and we do not promote any type of hacking. This article is only for learning purpose. If you do any type of hacking then you will be responsible for it, not us.
Conclusion On Z shadow Hacking
So here I have explained the whole Z shadow hacking process in the easiest way I can explain. After following the above steps, you will be able to get anyone password. It can be your friend, girlfriend, relatives etc. z shadow is the good website to learn and use this simple and common hacking method of using phishing pages. Z shadow is safe to surf and use but do not use it in the wrong way like to hack other accounts or something like this.
You will have to use a link that draws the attention of the people towards your link and which make them to open it. Z shadow links such as facebook add follower, Instagram increase followers will surely work as they can easily catch user attention. You can try these things on your own computer, laptop or phone to know how these things are working on. But hacking someone account is illegal. So if you have any question or queries then you can ask in the comment section below or you can leave a message on our Facebook page. We will glad to help you.
There is one more method of hacking accounts other than z shadow hacking called anomor. Click here, to know more about that methods.
Note – Hacking is a criminal offence, you can try this on your own system to learn this.
Read Also