This trick is easy to use for anyone. In this tutorial, I will discuss shadowave com website. So, What is this? It is a website that provides you free phishing links. To use these links you have to first sign up on this website. You can also download shadowave app but it is not available on play store. Therefore, You have to download shadowave apk from other websites and then install it on your phone. But I recommend don't download shadowave apk because it can be a threat to your phone security.
As you might already know that shadowave.com website is no longer available. So, currently, it is not working but the good news for you is that you can use smikta.net which is a similar website to shadowave.
You can also create your own phishing pages. It is easy to create such pages or you can create your own website like z shadow using Bluehost. This is the complete tutorial on shadowave com in which I will cover everything that you should know to use this tool.
You can try this on your own system to learn it, do not try this on someone else. Hacking is a criminal offense. When you log in to this website the first thing you notice that there are many links on your dashboard. They all are phishing links.
Phishing is the most common and one of the easiest method which is used for hacking. Mainly in this method, you have to create fake pages which looks the same as the original one and after creating these pages you have to upload it to any free web hosting sites.
In this tool, you have many choices of links. Choose any of them to send to your friend or anyone else. You can also read someone WhatsApp messages on your phone in this way (hack WhatsApp messages).
Official website URL: www.shadowave.info
Read Also:
Shadowave – Hack Facebook Password by sending a link
You can find there are different types of links on this website which you can use. But how to use this? Well using this is simple for anyone. You do not need to learn any difficult topic. shadowave com website trick is really awesome.
You do not need to make an extra effort for making a phishing link. This site has everything for the user to use it and it helps you to reduce your work and save your time. You can read this step by step instructions to use Shadowave links.
Step 1 – Open Shadowave Website
Open the website. Which look like this one in the image below and click on the "sign up here" button. You have to sign up on this website to get all those phishing links. Fill the details required for sign up like email, age, username, country. Now when your sign up is completed just log in to your account using your username and password.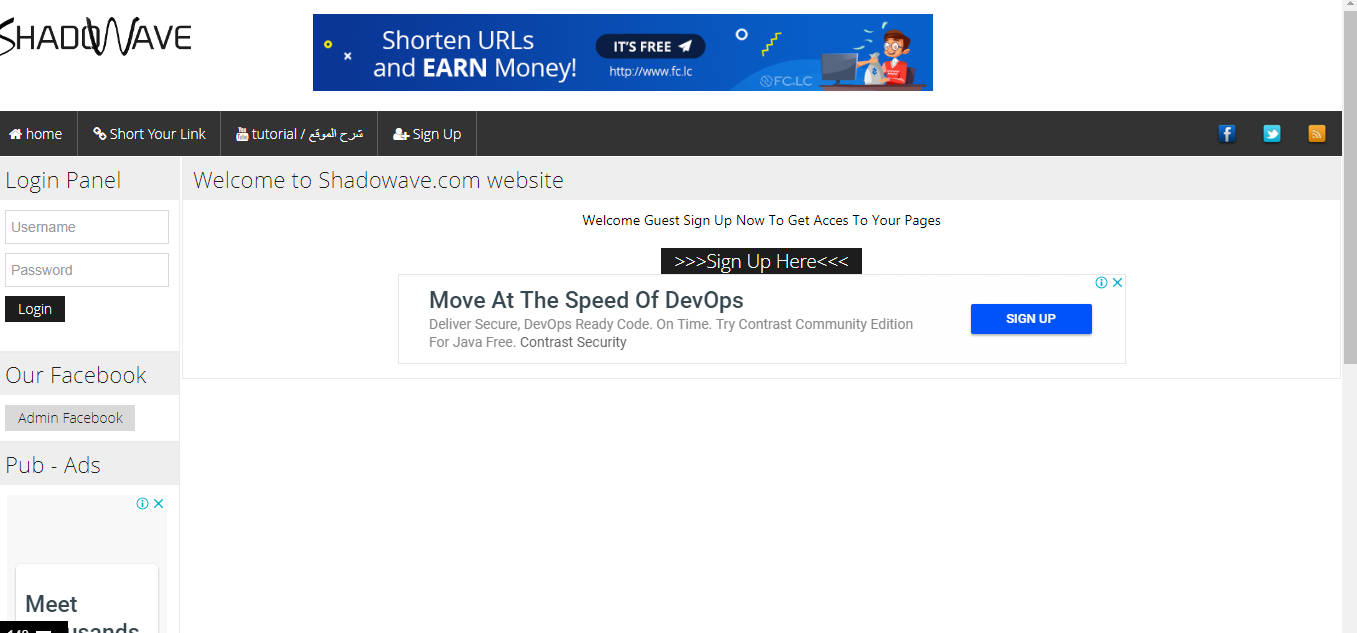 Step 2 – Sign up
Click on the sign up here button and then a sign-up form will appear on your screen. Fill this form. Type your username, set password, type your email address, age, and country. When your signup is completed you will get username and password for sign in. Use the username and password to sign in to this website.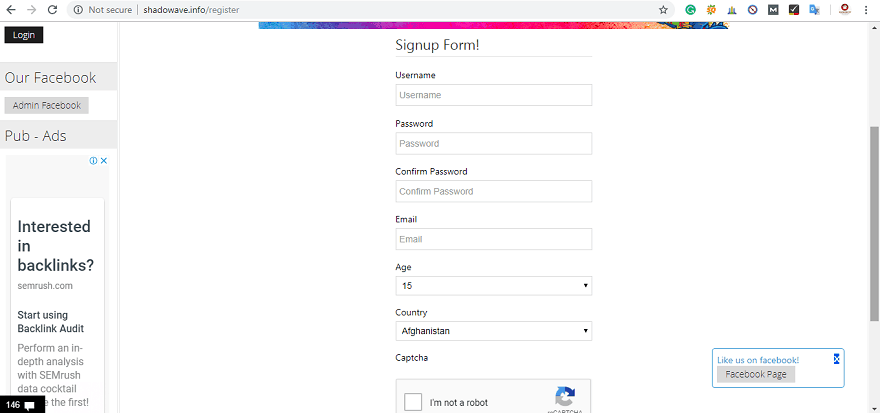 Step 3 – Login to Shadowave With Your Username and Password
When you logged in to this website. You see scamas1 and scamas2. You can copy any link from any of these two scamas. There are different links given in both the Scamas. You can choose any of these links. In the left sidebar, there is total victims, total pages and victim of today. All of your victims will be displayed in the total victims with their email id, password, IP address. I personally like links that are given in scamas2.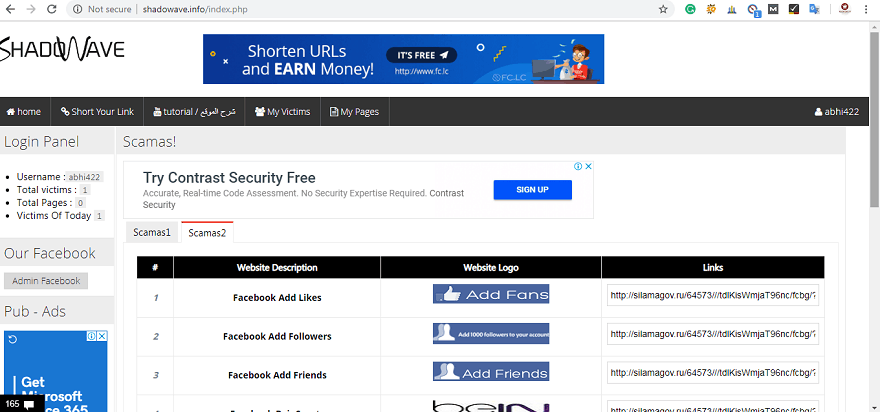 Step 4 – Copy and Send the Link
Copy any link according to your choice and send it to the victim. Do not send this link to too many people otherwise these links will be blocked by Facebook. Choose those links which seem to be interesting that can catch user attention and the user wants to check it. When the user tries to login his email ID and password using your link then you will get his/her email id and password.
I have copied the facebook profile visits link. Facebook profile visits can catch any user's attention because many people want to know who visits their Facebook profile. Now, I will send this link to my friend when she opens this link and I will get her email ID and password.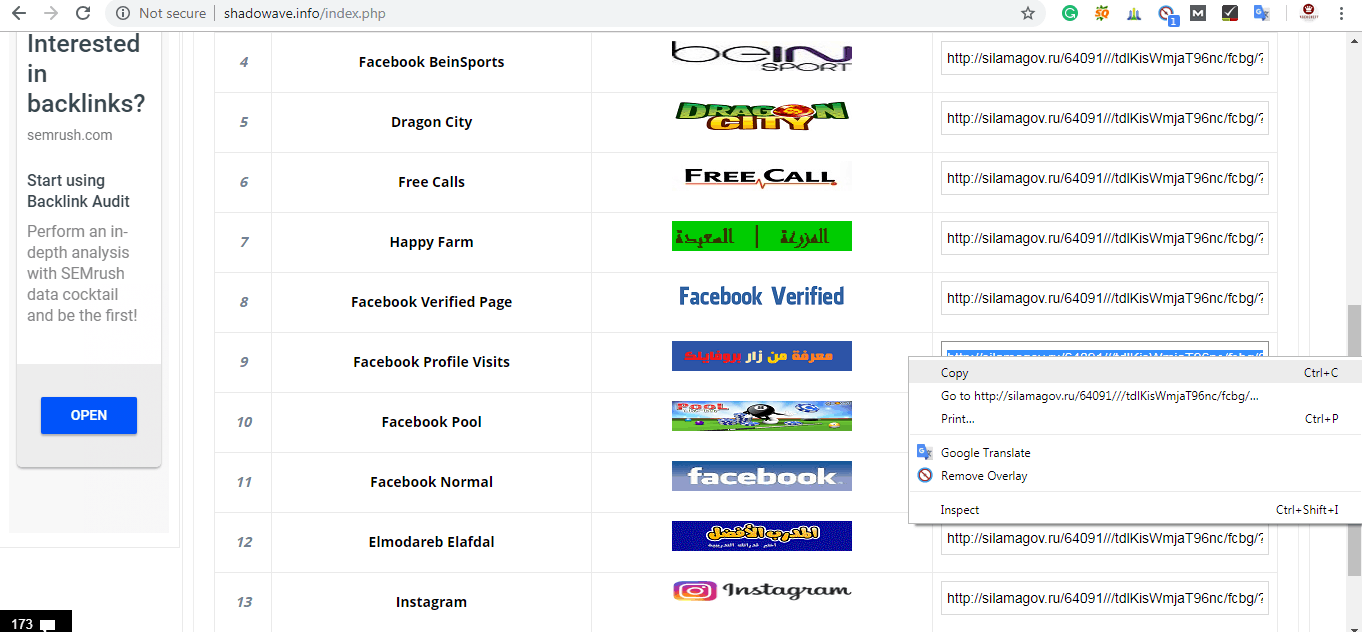 Step 5 – Wait
Wait for some time. When the user opens this link, It will open like in the image below. This is a phishing link and this website offers different phishing links. When anyone tries to log in to this page using his/her Facebook account then he/she will be hacked and You will get the email id and password. This is a very common technique. But try this to learn and try it on your own system, do not try on anyone.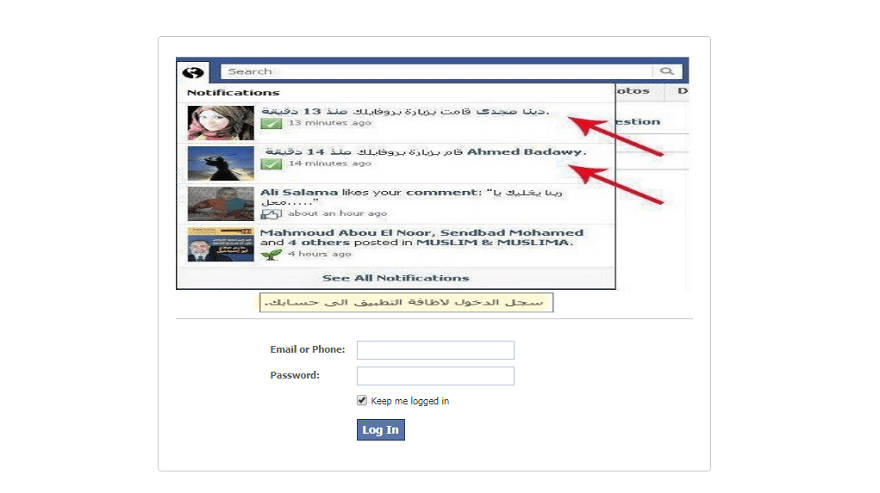 Step 6 – Check Your Victims
You can check your victim ID and password in the "My Victims" option. All of your victims will be displayed on this page. Victims get automatically deleted after 15 days. So, you can save or download your victim's document file. These are some easy steps for using shadowave com. Do not try this on anyone. Try it to learn and practice on your own system and ID. You can read an article about ethical hacking here.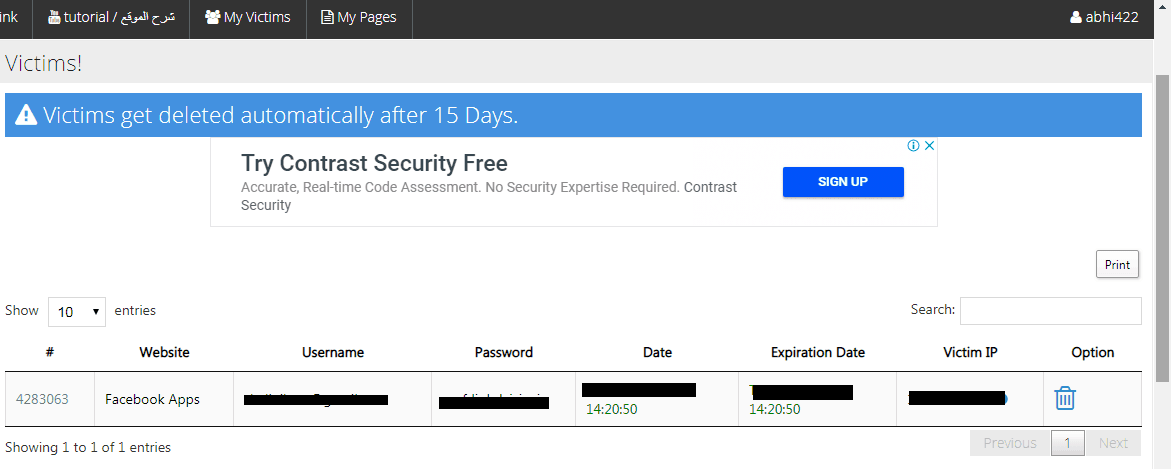 See Also
Hack Instagram account username and password
To hack an Instagram account username and password. You have to follow the same procedure which is written above. But do not send any Facebook-related links. Send only Instagram links or games related links in which login using the Instagram account is required. You can follow these steps to hack an Instagram account.
Step 1 – Copy and Send the link
Copy the Instagram link and send it to the person whose Instagram account you want to hack.

Step 2 – Check Victim's List
Wait for some time and after a few hours check your victim's list. When the user opens this link, It will open like in the image below.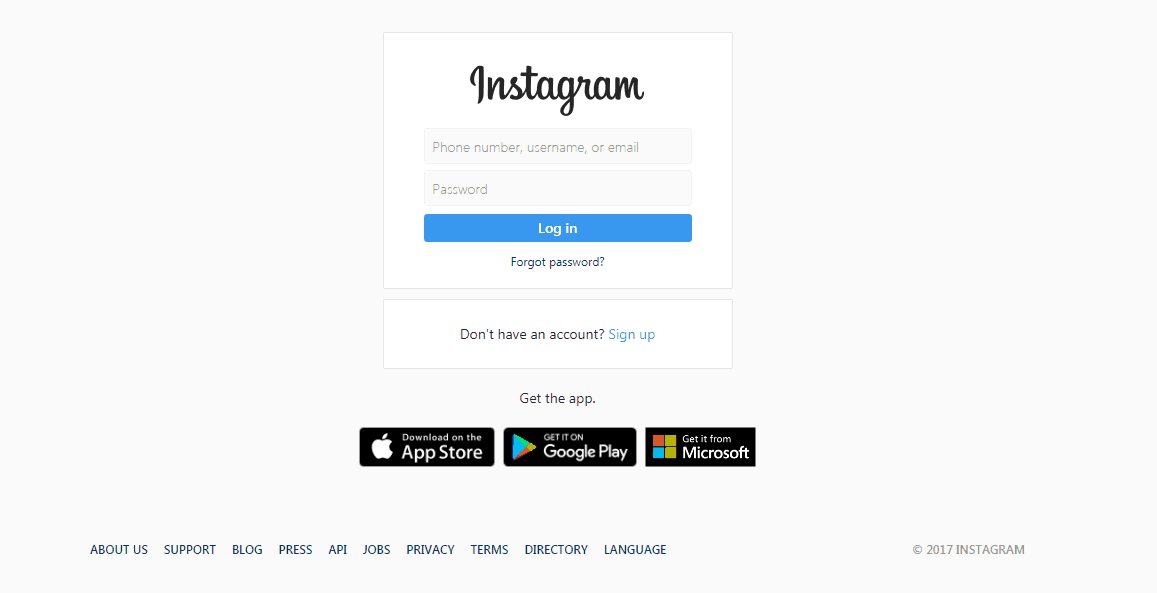 Is Shadowave com a safe website?
No, Shadowave com is not a safe website because this website has not Implemented any SSL certificate that makes the website secure for visitors. You can use this website to get the links and other than this do not enter any personal or important information.

One tip for you Always avoids clicking unknown links. Some links are very dangerous they can be virus program to hack into your computer. So, avoid clicking unknown links in email, Facebook, or on unsafe websites. You can also create your own links.
Conclusion
Shadowave com is the best website to get hacking links. You have to sign up on this website and after that, you can use any links to send it to your friends or anyone else.
If your links are getting blocked in Facebook messenger then you can send these links using email, WhatsApp, or other platforms.
Do not download the shadowave app from any other website because It can threaten your phone security. It is better to run the website on the phone. You can also check out some tips to prevent yourself from hacking.
Do not use these techniques on anyone else. You can use these methods to learn and boost your knowledge. You can try this on your own ID and computer system to learn and know the working process.
Share this