Are you looking to recover data from pendrive? Many times different virus enter into our pen drives by the internet, from someone's else computer when we receive/copy any data from that infected computer. And, after when your antivirus scans your memory card, hard drive or any of your storage device, It shows to remove the viruses on your memory card/hard drive. When you removed that viruses, many times this problem faced by many individuals that you did not see any files only shortcuts appear in your pendrive.
If you have such an experience, you may know that virus attacks will result in unexpected data loss on a hard drive. It is easy to recover all those data easily just read the given below instruction step by step and you will recover data from pendrive safely.
Recover Virus Infected Hidden Data (Recover data from pendrive)
Use CMD to recover files from virus infected pendrive, hard drive, and memory card. You can also use Data Recovery Softwares to recover your lost data. Both the methods are easy to use, you can recover either by CMD or by installing any data recovery software to recover hidden files/data from virus-infected Pendrive
STEP 1
Click on start menu
STEP 2
Then run cmd (you can use windows button + R or search for cmd in run)
STEP 3
Get the pendrive/memory card drive letter  (eg. mine is H and type it as H: in command prompt and then enter)
STEP 4
type the given command carefully
attrib -s -h /s /d *.*
type all the above line as it is and press enter…..
wait for while…..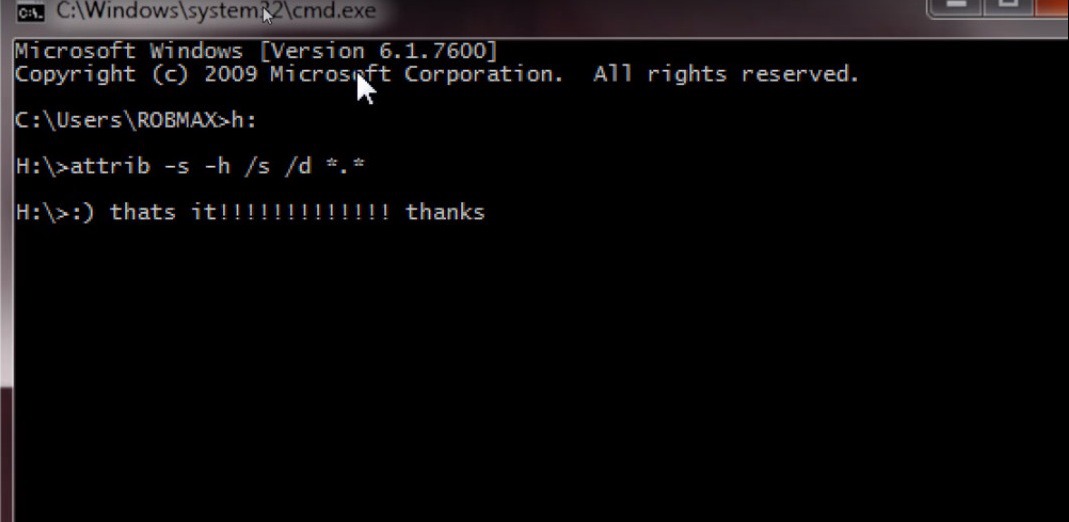 Now check your pendrive/memory card you have recovered your corrupted or hidden data back. this way you recover data from pendrive easily. All your hidden files/data are visible now.
For any help, You can leave a message on our Facebook Page.