In this article, you will learn how you can use your webcam as a spy. I have shared the list of best free spy camera app/software that you can use to monitor your home.
You can make the computer or laptop webcam to spy your room using webcam software. This will help you to monitor your home in your absence.
You can use this trick if you do not have any CCTV cameras to monitor your home. Also, it will save you money.
So, It may be a good idea for anyone to use this webcam surveillance. It can be used as a home security camera to monitor all activities and record it secretly.
Read Also:
Webcam Software to monitor the home
If you want to monitor your room/home, you can do it with your own personal computer/laptop.
For doing this, make sure that your computer/laptop has a camera on it. With this technique, you can anonymously monitor your room or home in your absence without investing in expensive hidden cameras. It is easy to make a computer into a spy camera.
Requirement For Webcam Spy software
You need a computer with a webcam attached to it.
Internet connection on your computer/laptop.
Webcam software online tool that I have mentioned below.
If your computer meets the above simple requirements, then you are ready to set up.
4 Best Webcam Softwares – Spy camera app
All these software are free. This software will make your device (computer or laptop) into a home security camera.
This webcam surveillance software can record video. Which will help you to have video footage if something went wrong because we never know what happens next? So, it's always a good idea to keep video footage as proof.
1. iSpy connect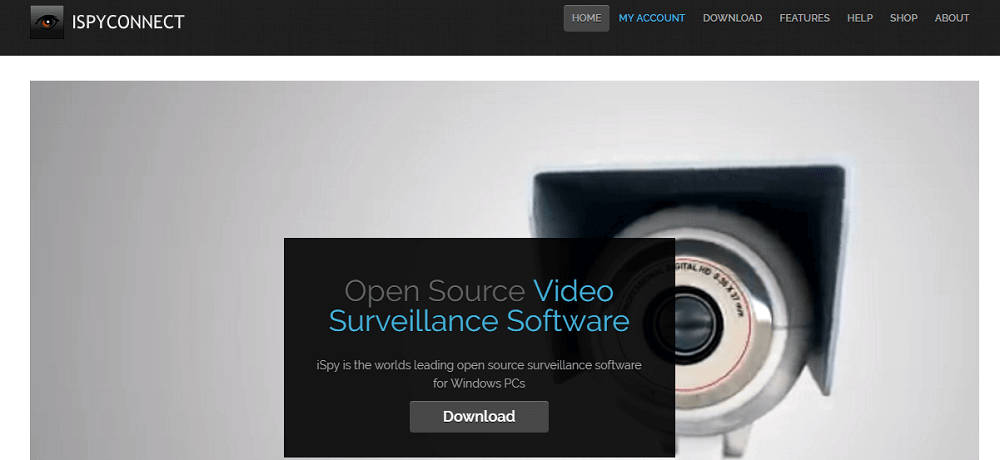 iSpy Connect is an open-source video surveillance camera security software.
You can access this software from anywhere.
It is available for Windows users.
It can be used for home surveillance, home security, office surveillance, work monitoring, employee monitoring, street monitoring, etc.
iSpy is feature-rich and offers features like motion detection, motion processing, recording, scheduling, audio remote access, password protection, desktop recording and more.
2. ZoneMinder

ZoneMinder is also an open-source free video surveillance software system.
Useful for monitoring home, office, or wherever you want to use it.
Easy to install and use.
You can monitor your home activities from anywhere. You just need internet data to see it.
The mobile app is also available for android and iOS users to use it as a spy camera.
3. Contacam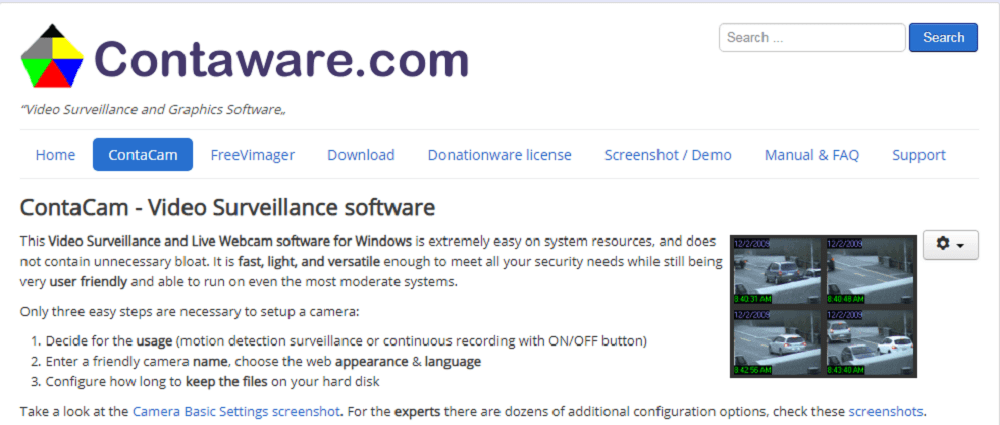 Contacam is easy to configure and use.
It offers video surveillance and fast recording.
Supports windows vista, windows 8, and Windows 10.
Contacam is available in different languages. So, you do not face any language issue when you are going to set up this software. These are the languages that are available: English, Bulgarian, Chinese, French, German, Italian, Portuguese, Russian, Spanish and Vietnamese.
Features: motion detection recording, daily summary video creation option, integrated web server, remote watching and more.
4. Ugolog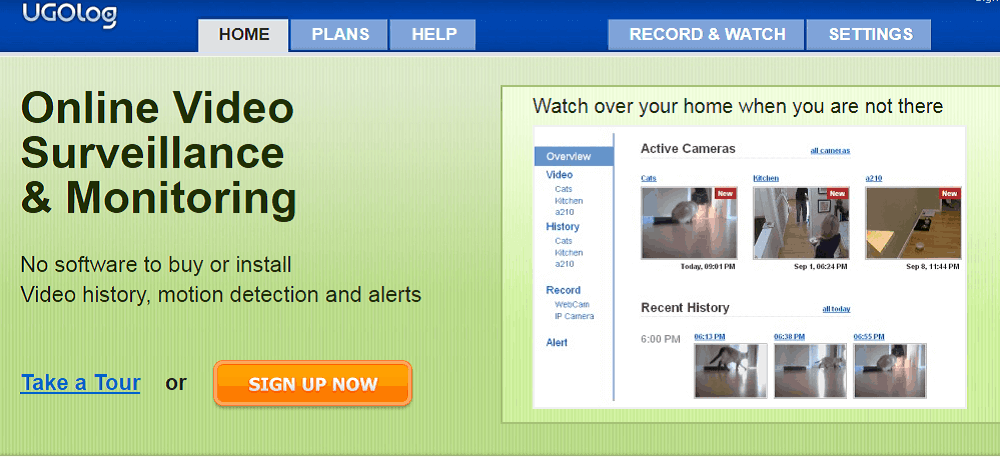 Website: ugolog.com
It is available in free as well as in paid version.

It monitors all activities and records it in video history. The video history will be saved in this software on their server.

The best thing in ugolog is, it runs as a web application within the browser. So, you do not need to install any additional software on your computer. It means you can easily watch what things happening around you.
In Free version plan, you will get 50MB storage and 14 days of history.
Make your laptop into webcam surveillance using ugolog.
Monitor all the activities from anywhere.
Employee monitoring.
Home monitoring.
For using ugolog, you have to make an account on this website.
How to use web surveillance?
To turn your computer/laptop into webcam spy/spy camera. You can download and use any of these 4 webcam software.
Now, to show you how you can use these softwares. I am using ugolog software to give you the idea of using any of these software.
Ugolog provides a free solution to make spy camera in just a few minutes. ugolog is online video surveillance and monitoring tool.
1. You need to create an account on ugolog. Click on sign-up for a free account.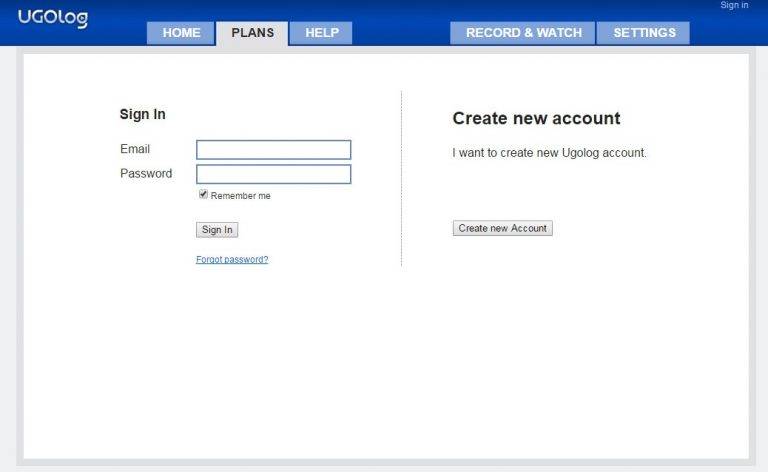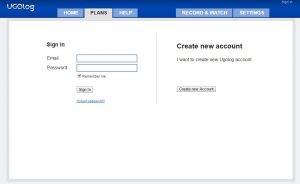 2. Click on create a new account.
3. After when your account is created. You can use it.
4. In your dashboard, you can see video, history, webcam and IP camera.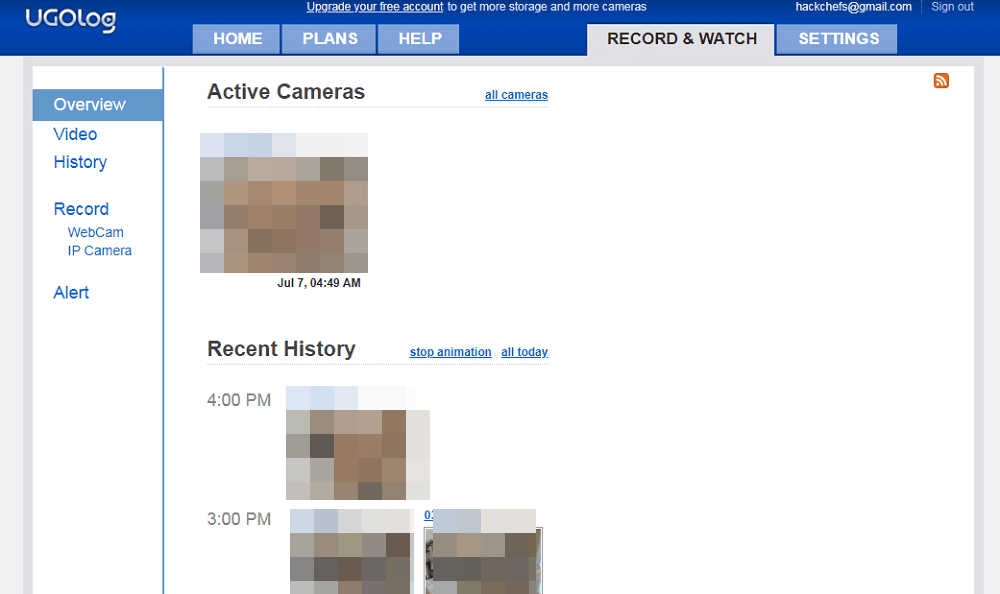 There are many mobile apps available on Google Play store to monitor home activities, monitor your baby, car, etc. To use these apps, You need to place a camera in your home so that you can monitor live activities from anywhere in the world using the Internet connection.
Some best apps that you can use for this purpose are Alfred DIY CCTV, Home security monitor system, IP camera monitor, and Home Security Camera WardenCam (reuse old phones).
See Also:
Share this