I assumed that you have already created a blog and have an idea of all essential SEO techniques. But if not, then you can read our guide to start a blog and to implement important SEO techniques on your website. So, In this post, I will discuss how we can create high-quality backlinks in the right way to increase traffic from search engines. If you are a blogger or any site owner then at some point in time, you may listen to the word Backlink. So what is backlink? what is the importance of backlinks? How to create backlinks? Does backlink have any effect on SEO? All these questions will be answered in this article. So let's cover all these questions one by one.
What is Backlink?
As the name suggests, the backlink is a link that one website gets from another website. In simple words, when someone provides a link to your website on their blog or website then it is known as your backlink.
Example: When some websites provide the link to my website(www.hackchefs.com) or link to any post on my website(www.hackchefs.com/z-shadow-hacking-links) then it will work as a backlink for my website(www.hackchefs.com)
Also read:
Importance of Backlink
A backlink is very important from SEO point of view. It makes a huge impact on your website visibility in search results. If many sites link to the same webpage or website then search engine thinks that this page is worth showing on the top of the result. That's why Backlink considered to be very useful for website SEO. So, having these backlinks have a positive effect on Website ranking positions and search visibility.
Due to the importance of backlinks in the SEO, many website owners start purchasing backlinks, selling backlinks, exchanging backlinks to gain backlinks. If search engine recognizes any of these activity done by your website then it will deindex and penalize your site. And it may cause heavy loss of traffic to your site. So try to avoid such activity and create backlinks by the below mention methods.
4 Free ways to create backlinks
1. Commenting: It's one of the easiest ways to build the backlinks. There are lots of website from where you can create a backlink for your website by commenting on them. You just need to go to the website then go to comment section and fill the details and in website option, paste the link of the webpage for which you want a backlink and submit a comment. Within 48 hours your comment will be published and you'll get one backlink.
Some people write the URL of website homepage in website option, no doubt it will rank your homepage well. But instead of website homepage, try to create backlinks for your website articles or web pages. Because people search for your articles or web page, not for the homepage. So, it's better to create backlinks for web pages so they can rank well in the search result and which leads to increase the traffic to your website.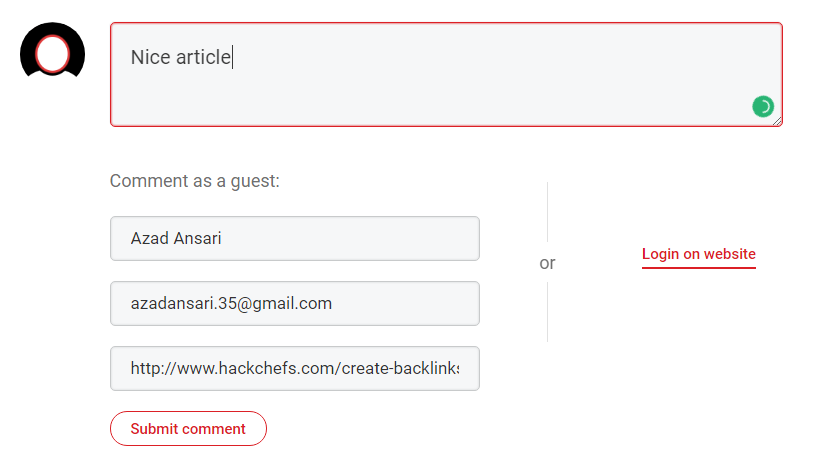 2. Guest Post: There are lots of websites which are open for guest posting, like Shoutmeloud and Moz and many more. I would suggest going to the website, which has a high domain authority. So what you can do is, first read their guidelines and write a quality post for them according to their guidelines and then submit. You can write your website URL in the post for creating a backlink or many blog owners write your name and website URL at the end of your blog post. In this way, you can also create a quality backlink.
3. Directory Submission: Go to google and search for the directory submission list. There are lots of websites where you can submit your article link. One of the most famous websites for link submission is Reddit, So I will tell how you can submit a link to Reddit. First, go to reddit.com and then create your account. After login, you'll see two options.

Click on submit a link and then you'll see a below type of page.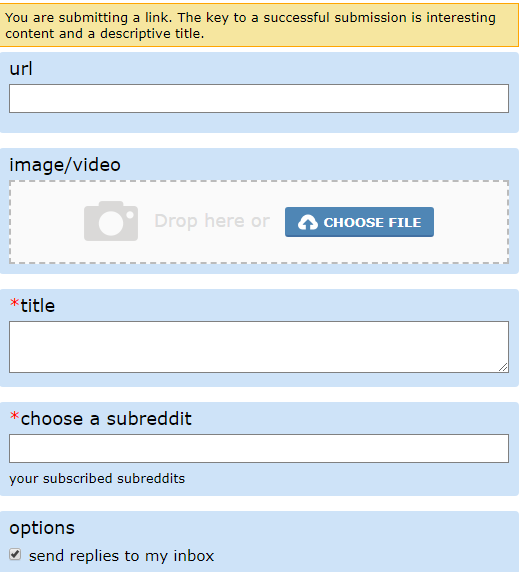 URL: The URL of the article.
Image: You can upload a featured image of that article.
Title: Write keyword in the title section.
Subreddit: It's like category, Here is the list of all subreddit.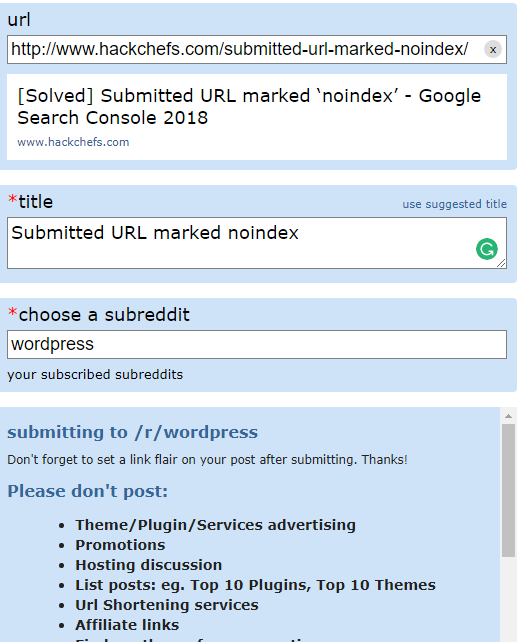 After filling the details, submit the link and then you are successfully created one backlink.
4. Forums: You can generate a backlink by means of forums and also generate traffic from there. The most famous forum is Quora. You just go there and search for the topic or question for which you have written an article on your website and then write short summary there and provide your article link for more details. Below I am sharing, how I create a backlink on Quora.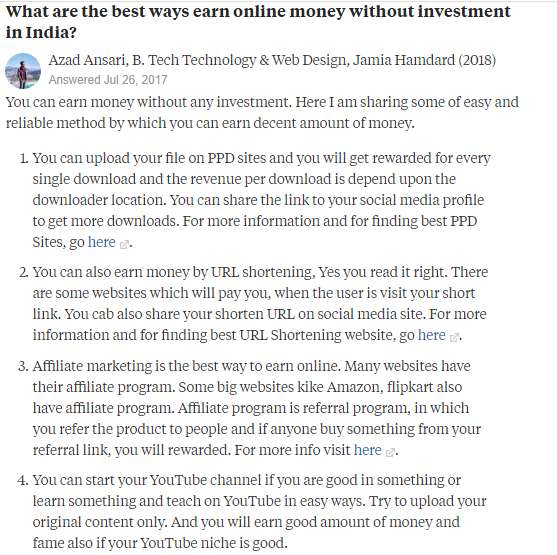 Some of the most active forums are WordPress Forum, StackOverflow, etc.
Share this