In this Bluehost review, I will discuss only the positive and negative points of Bluehost. It is a purely unbiased review based on my personal experience. Bluehost gives you a free domain name if you purchase web hosting from this company. It means you do not need to pay extra money for buying a domain name. Which cost nearly $10 to $15 for 1 year.
I am not gonna write so many things. I will give you to the point information. So, this Bluehost review covers topics – overview of the company, positive and negative points.
Website: Bluehost.com
Company Overview
Bluehost web hosting is a leading web solutions services provider. It is the leading provider of cloud-based platform solutions to help small and medium-sized businesses succeed online. Currently powering over 2 million websites worldwide, this hosting giant has now launched in India.
Bluehost is part of the Endurance International Group of business that helps small and medium-sized business owners establish, manage and grow their businesses by harnessing the power and promise of the web.
See Also:
Customer Experience – Is it Worth To Buy Bluehost Web Hosting in 2019?
Since I had used Bluehost web hosting for 1 month. I can list here some of its positive and negative points. If you feel anything missing or not up to the point you can add that in the comment section.
How many visitors Can Bluehost handle? It depends on which plan you are choosing Bluehost provides six different hostings in which shared hosting is the cheapest one. If you are starting a new website then go with shared hosting from Bluehost. A new website takes some time to grow up when your visitor increases you can choose some other good plans like Bluehost WordPress hosting, VPS hosting, etc. Which hosting should I choose for my website?
Positive Points
It is reliable and most of its plans include unlimited domain hosting, unlimited file transfer, unlimited email accounts, unlimited hosting space.
Security features that it provides are excellent and it is easy to make a WordPress website with Bluehost.
Performance output and good customer care support.
Bluehost host offers six types of hosting: Shared hosting, cloud hosting, WordPress hosting, WooCommerce hosting, VPS hosting, Dedicated hosting.
If you are looking for an inexpensive hosting plan I would suggest you go with shared hosting. The basic plan for shared hosting cost $3.95 per month (I had used this $3.95 plan for one month) and prime $5.95 per month. If you are buying hosting for the first time and your traffic is something between 100-15000 visitors per month then go with a $3.95 plan.
Cloud hosting starting at $6.95 per month and business pro $15.95 per month.
WordPress hosting is expensive, It is starting from $19.99 per month (WP Standard) to $49.99 per month (WP Ultimate).
WooCommerce hosting starting at only $6.95 per month.
VPS hosting starting at $19.99 (Standard) to $59.99 (Ultimate) per month.
Dedicated hosting starting at $79.99 (Standard) to $199.99 (premium) per month.
You can try this hosting, it gives the best performance, customer support.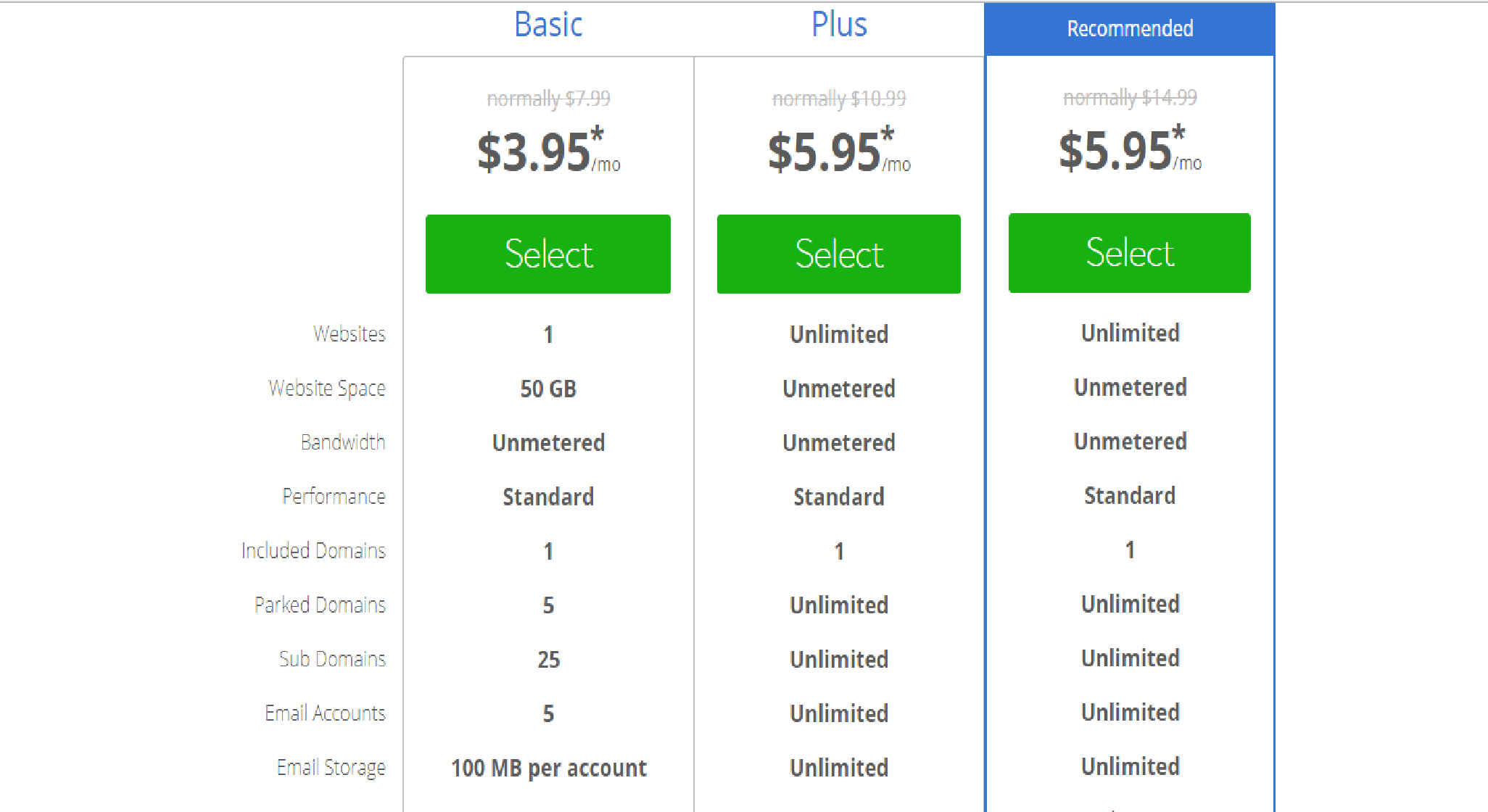 Negative Points
Most of its good plans (which offer more bandwidth, RAM, visitors capacity, storage, etc) are expensive.
Not best-suited for base price plans of shared hosting if your traffic is more than 30000 visitors per month.
Slow speed for base plans (I have only tried a base plan, don't know much about its premium plans performance).
Alternatives
At last, I want to say Bluehost is WordPress friendly. Many people across the world satisfied with its service and customer support. Also, there are people who are not satisfied with them, every product has its pros and cons. So, it's up to you to choose whichever you like. If your website receives decent traffic between 1k-25k per month then buy base plans (a not expensive one) when your website receives high traffic then buy some better (expensive one to handle that traffic) plan.
How to get the latest Bluehost discount coupons?
You can check discount rates if available on the official website. Mostly the price for shared hosting is $2.95 (if there is a discount available) or $3.95 (original price).
For any help, you can Contact Us or leave a message on the Facebook page.
Share this